June 2017
Q. What is the "Go Blue Guarantee?"
A.  The "Go Blue Guarantee" is a new financial aid program for in-state students that offers a guarantee of free tuition for up to four years for students with family income of up to $65,000. The new program – which includes families earning up to what is roughly the state's median income – will launch Jan. 1, 2018. It was approved June 15, 2017, by the university's Board of Regents for the Ann Arbor campus. Student who qualify for the guarantee also may be eligible for additional need-based aid to pay other college expenses. More details on how to qualify are available here: Goblueguarantee.umich.edu
Q. What is the current cost of tuition at the U-M?
A. The exact tuition rate a student pays varies by the school or college in which the student enrolls, the credit hour load of the student, and the student's class standing. Another major factor is the amount of financial aid a student may be receiving. About 70 percent of all in-state undergraduates receive some form of financial aid.
That said, the most common tuition rate for in-state freshmen starting classes in fall 2017 is $14,826 for tuition and fees for the academic year.
Additional detail here:
http://www.ro.umich.edu/tuition/tuition-fees.php
Q. What does tuition money pay for at the university?

A. Tuition pays for the core academic mission of the university. That includes instruction, financial aid, academic advising, museums, libraries, computing centers and other services.
Q. What does tuition money NOT pay for?

A. Tuition dollars are not used to pay for these areas:
Intercollegiate athletics.
Student housing.
U-M Health System.
Student Publications.
Most construction projects.
These are all self-funded areas of the university that generate their own funding and pay their own way. No tuition or tax dollars are used in these areas.
Q. Why is it necessary to raise tuition?
A. The key reason for increasing tuition is inflation and the long-term decline in state funding. Overall, state funding for the university has declined by 40 percent on a per-student basis, adjusting for inflation, over the past decade.
For the coming fiscal year (FY2018) state funding will increase 1.9 percent, which helped to keep the increase in tuition lower for in-state students. However in the 1960s, state funding made up 80 percent of the U-M's general fund budget – the budget that pays for the university's core academic programs. In the coming year, the state appropriation will be around 16 percent of the general fund budget.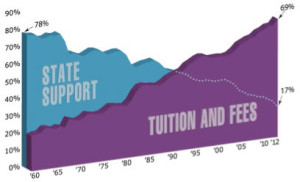 Q. Why does U-M tuition go up each year?
A. Tuition helps support learning opportunities, quality teaching, undergraduate research experiences and the respected scholarship that make a U-M education one of the best in the world. Through aggressive cost controls and prudent fiscal management, we are committed to maintaining the high standards of the university and to supporting the priorities and initiatives that help prepare students for success. This includes investing in cutting-edge technologies, hiring leading professors in their fields and providing increasing amounts of financial aid.
Maintaining the excellence of our educational programs and ensuring access to the university for students from all economic backgrounds are U-M's top priorities. Accordingly, we have consistently boosted financial aid each year for students with demonstrated need.
For the 2017-18 academic year, the university increased centrally awarded financial aid for undergraduates by 9.5 percent. That means that, for the eighth consecutive year, the increase in financial aid more than offsets the increase in tuition rates for in-state students with financial need.
The annual appropriation from the state also plays a key role in setting tuition and fees. While there is an important 1.9 percent increase in state funding for the coming year, state funding per student, on an inflation-adjusted basis, has declined by 40 percent in the past decade.
Q. What is the U-M doing to help defray the high cost of higher education?
A. The university continues to increase financial aid funding and aggressively cut operating costs to protect the academic experience.
Increasing financial aid: The university remains committed to providing financial aid that makes a U-M education accessible for qualified students from all socioeconomic backgrounds. During the last 10 years, the university has increased financial aid by an average rate of 11.3 percent. During that same time period, the average annual tuition rate increase has been 4 percent for in-state lower division  rates.
About 70 percent of undergraduate students who are Michigan residents and 50 percent of out-of-state students receive some form of financial aid.
Aggressively cutting costs: In the face of historic reductions in state funding, the university is saving tens of millions annually through such measures as reducing energy consumption, offering low-demand classes less often, leveraging IT to reduce costs and asking employees to contribute more to their health benefit programs.
Since 2004, the university has trimmed or reallocated $380 million in recurring expenses in the general fund budget. The 2017-18 budget contains more than $24 million in reductions or reallocations.
All of this is being done carefully to preserve the high-quality teaching, service and research that contribute to the world-class education our students deserve and expect.
Q. Why doesn't U-M spend less on athletics and lower tuition?

A. No tuition dollars are spent on athletics. The Athletic Department generates all of the funds necessary to pay for 100 percent of its operations. That includes all salaries, scholarships for student athletes, facility improvements and all operational expenses.
The U-M Athletic Department is one of only a handful of major university athletic departments in the nation to pay for 100 percent of its expenses. In addition, Athletics makes an annual contribution to the university's fund for need-based financial aid for Michigan students who are not athletes and pays full tuition to the university for those student athletes attending on athletic scholarships.
Q. Why can't the U-M use revenue from these self-funded areas to pay for academics and help keep tuition lower?
A. With very few exceptions, the revenue generated in these self-funded areas is required to be spent in those areas. Patient revenue at the U-M Health System must be used to pay expenses in the health system. Donors often specify how their gifts to the university be spent.
For example, the U-M endowment actually is a collection of about 9,100 separate funds. One quarter of those funds is designated to support work at the U-M Health System and can only be used to support research, patient care or other purposes specified by the donors. About one fifth of the endowment is specified for student financial aid.
Athletics does make an annual contribution to the university's fund for need-based financial aid, in addition to paying for all athletic scholarships. It's important to note that these areas are not supported by any tuition dollars.
Q. Why doesn't the U-M freeze salary increases to keep tuition lower for students?

A. When it comes to salaries, the university works to strike a balance between keeping costs down and offering competitive wages to attract and retain the best possible faculty and staff. This year the university has budgeted for modest salary increases for faculty and staff.
Q. Why is tuition so much higher for students from outside the state of Michigan?

A. The U-M is a public university that is supported by the taxpayers of the state of Michigan. While that state support has been declining over time, the U-M remains committed to its public mission of serving Michigan residents. Another way to look at the cost of tuition is that out-of-state students pay tuition that more accurately approximates the cost of instruction at the U-M. Students who are Michigan residents get a tuition discount because they and their parents pay taxes that are used to support the U-M and the state's other public colleges and universities.
Q. Rather than raise tuition and increase financial aid, wouldn't it be better for everyone to just reduce the amount of money spent on financial aid and keep tuition lower?

A. We believe financial aid is a key component of making the university accessible. Many qualified students would not be able to attend the U-M were it not for financial aid. Money used for financial aid also comes from a variety of sources. With the Victors for Michigan fundraising campaign now underway, U-M has a goal of raising $1 billion for student support.
Q. If out-of-state students pay more to attend U-M, why not raise tuition even higher for the growing number of international students?
A. The overall goal is to make a U-M education as accessible as possible for all academically qualified students. Tuition for students who are not Michigan residents – regardless of where they come from – approximates the actual cost of attending school here. The U-M enrolls students from all 50 states and more than 120 different countries.
Q. When you say about 70 percent of the U-M students from the state of Michigan receive some financial aid, what do you count as financial aid?

A. Financial aid is a term that has a common definition and is consistent across all U.S. colleges and universities. A typical financial aid package might include more than one type of aid. Financial aid can include:
Grants: Grants are gift aid from federal, state or university resources. They are awarded to students on the basis of need and do not need to be repaid.
Scholarships: Scholarships are largely gift funds that often are awarded to students with high academic achievement or special talents; they do not have to be repaid.
Loans: Loans are borrowed funds that must be repaid, with interest, after the student has completed school.
Work-study jobs: These jobs are available to students who have financial need. Under the work-study program, a percentage of a student's earnings is paid through federal or state funds and the student's employer pays the remainder.
Q. What other costs are associated with attending a school like U-M?
A. Typically the costs of attending college include tuition, room and board, books and supplies and personal items. Actual expenses will vary based on lifestyle and level of enrollment. For a resident freshman starting at Michigan in fall 2017, the total cost of attending is estimated to be $27,812. That includes:
Tuition & fees: $14,826.
Room & board: $11,198.
Books & supplies: $1,048.
Personal & misc.: $2,554.
Cost of attendance calculator:
http://www.finaid.umich.edu/TopNav/AboutUMFinancialAid/CostofAttendance.aspx
Q. Many references to tuition actually use the phrase "tuition and fees." What are the fees?
A. Each student is assessed the following mandatory fees per full term:
Registration: $80.
Central Student Government: $9.19.
Student Legal Services: $8.50.
School and college government: $1.50.
University Unions & Recreational Sports Facility Improvements: $65.
NOTE: A $190.98 health service fee and a $185 infrastructure maintenance fee are included in the tuition figure.
---